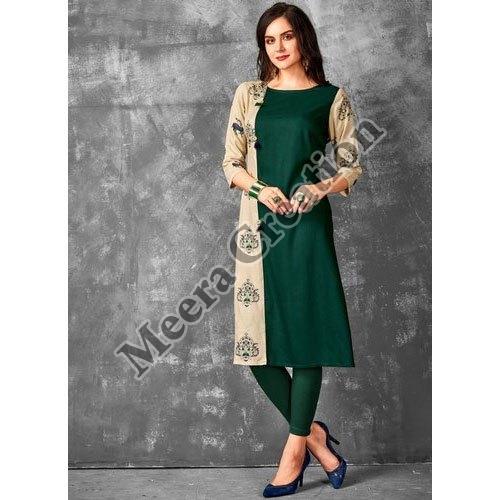 Kurtis is always the most popular women's clothes. They're popular since they're light and airy. They are one of the most adaptable clothing options for ladies in our nation, owing to their appealing styles. Kurtis is a modernised form of the traditional Indian clothing 'kameez,' influenced by western fashion. Kurtis, which come in a variety of intriguing shapes and designs from any Designer Cotton Printed Kurti Supplier, may go with any outfit, including jeans, trousers, churidars, and leggings.
Kurtis is an indispensable component of modern Indian culture. Because India has a tropical environment, cotton is the most common fabric in most Indian clothes, including the iconic Kurtis. Cotton Kurtis have always been a popular choice for ladies, and demand is especially strong during the hot summer months. This does not preclude you from wearing a cotton Kurti in the winter.
Cotton Kurtis:
Cotton Kurtis have been around for a long time and are being produced in a variety of fresh designs and patterns. Cotton Kurtis for women online has developed throughout time, whether due to western influences, which designers are creating new trends, or simply due to the trend's freshness.
They have evolved into the go-to ethnic attire for any occasion. It's no surprise that this classic trend is adored and worn by designers, fashionistas, and bloggers all around the world.
Here are some of the benefits and explanations of why cotton Kurtis are so popular.
Top Benefits Of Wearing Cotton Kurtis:
● The Softest Fabric -
Cotton is a very breathable fabric with a soft and pleasant feel. Wearing a cotton Kurti has no restrictions, especially in the heat. Even the ones with long sleeves and full sleeves are comfy. They are inexpensive, convenient to transport, and allow you to move around freely. Many manufacturers provide cotton Kurtis in the trendiest styles and colours online.
● Occasion Friendly -
Cotton Kurtis looks attractive and comfortable in every setting, whether formal, semi-formal, or casual. They are available in a variety of patterns and styles, with mirror and jewel accents. Wear a Kurti when you run out of dresses or are unsure what to wear on a certain day or event. You may just carry it wherever. Designers nowadays have mixed cotton with different textiles to create highly stylish ensembles that are appropriate for everyone and everywhere.
● Easy To Maintain And Also Are Long-Lasting -
This is another advantage of cotton Kurtis. To begin with, you don't need to wash them constantly, and even if you do, simple ironing will have them ready to wear again. Cotton is easier to care for and more pleasant to wear than other textiles such as silk or chiffon. The best thing is that cotton is a low-cost fabric as opposed to others.
● Fits Perfectly -
Cotton eliminates this issue. It is a very adaptable fabric that looks well on all body shapes. It looks great on everyone and doesn't have any slack or tight fits.
Cotton Kurtis come in an array of colours, styles, and tints. There is never enough cotton, and its wide availability makes it even easier for shoppers to choose the ideal one every time.
You might even contact Designer Cotton Printed Kurti Supplier in Bihar to find the most up-to-date and fashionable designs on the market.
Apart from cotton, Kurtis is easily accessible in a diverse assortment of materials in the market. Cotton Kurtis, however, continues to be the most popular dress for Indian ladies.